InfoCounter - Promotional Information Counter
The Info Counter (also known as 'The Hawk') provides a striking graphic display along with a teardrop shape counter, A4 literature holder and flag post. It is ideal for any information point or 'meet & greet', at exhibitions, venues and business/retail environments.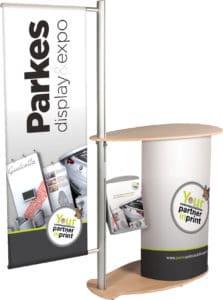 Features
Stylish teardrop counter design with flag post.
Includes an A4 Literature holder
Packed flat, to transport and assemble.
Supplied with full printed graphics for both the counter and flag
Options
Cable port in the countertop
iPad countertop holder
Carry bag for transportation
Counter Tops available in a choice of Birch, White, Black and Silver.
Dimensions
Overall size approx 1800(h) x 1500(w) x 656(d) (mm)
Counter 1010(h) x 1010(w) x 655(d) (mm)
Flag 1500(h) x 500(w) (mm)
If you have any questions feel free to contact our sales team 01767 603 930 or Contact Us
Product Specifications
Dimensions
Overall size approx 1800(h) x 1500(w) x 650(d) (mm)
Counter 1015(h) x 1000(w) x 650(d) (mm)
Flag 1500(h) x 500(w) (mm)
Weight 14kg
If you have any questions feel free to contact our sales team 01767 603 930 or Contact Us
Artwork Guidelines
If you have any questions feel free to contact our sales team 01767 603 930 or Contact Us
Customise Your Order
£

What Our Customers Think of Us