FlexiLight
The FlexiLight is visually impacting bendable display system... Its lightweight design for ease of travel and a single person tool-free assembly and can be as large or small as required.
FlexiLight is easy to carry and very compact. This, allied with tool-less assembly, means the system can be set up quickly. Add more panels and create a display that can bend and flex to suit your venue. You can re-use and reconfigure it over and over again, saving you both time and money.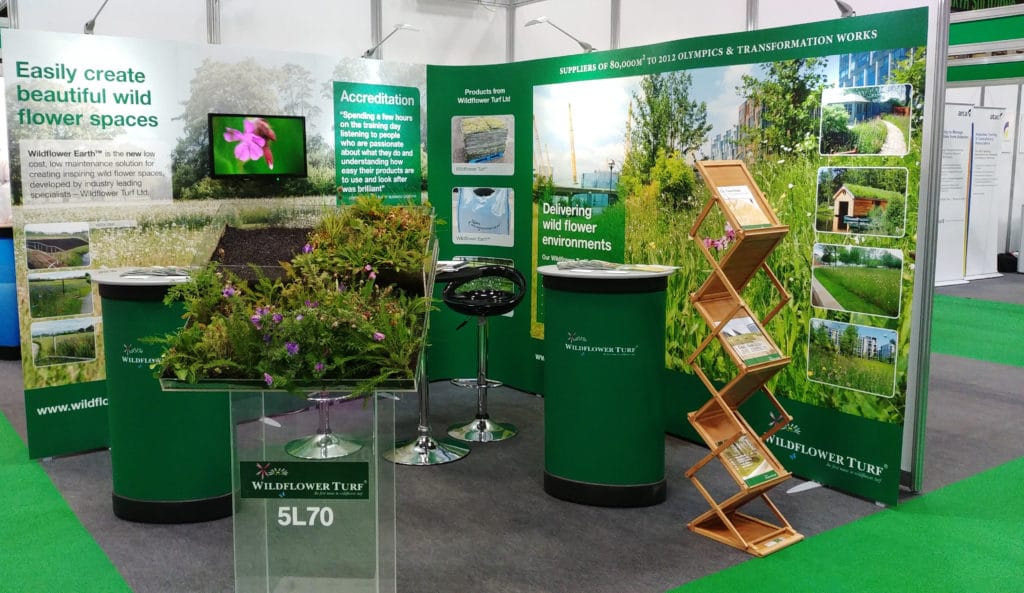 The lighter weight solution of the FlexiCurve. Designed for ease of travel and single person tool-free assembly.
Ask for a

free Visual

- Call 01767 603930
Flex the display to almost any shape
All graphic panels are the same size and can be frame mounted or used as a Flexi-link panel
Lightweight, compact and portable
Easy to assemble
Replacement graphics available
Available in two heights 2m and 2.2m (2.2m is ideal for shell-scheme booths)
Add an optional Screen up to 4.5kg VESA mount compatible £100.00 (Ask about our 32" Led Display with built-in media player)
Carry case converts to a counter
Upgrade carry tube to a wheeled case with countertop for £100.00
Bright LED floodlights to illuminate your stand £35.00 each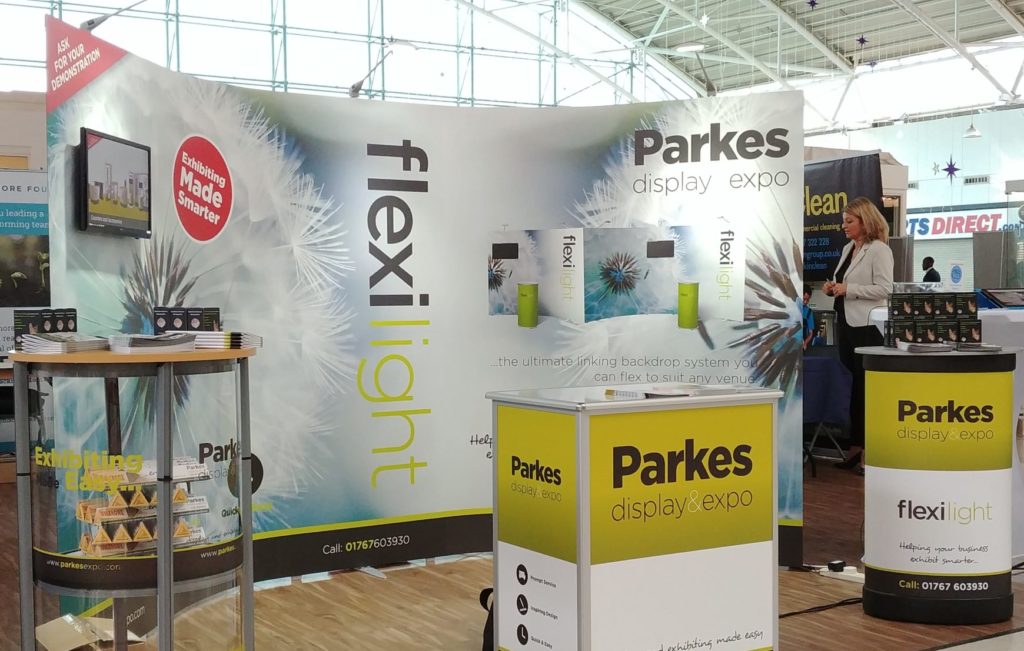 If you have any questions about our flexible exhibition banner graphics, contact us: 01767 603 930 or Contact Us
Order your FlexiLight exhibition banner graphics today!
---
FlexiLight FAQs
What is a FlexiLight?
A FlexiLight is a bendable display system, complete with impacting visuals designed as a backdrop. They can be built in multiple panels of 800mm width and can be as small or as large as you'd like. FlexiLight exhibition banner graphics have been created by Parkes Print & Design as a solution to heavy and hard to assemble exhibition displays. These portable backdrops are not only lightweight, but are also very compact and quick to set up.
Their flexible material makes them easy to bend and flex to suit your requirements, so one Flexilight can be adapted into various different designs and shapes.
When would I need a FlexiLight?
FlexiLight displays are designed for exhibition purposes, whether you're showing off products at an expo, or trying to encourage prospective employees at a job fair, Flexilights will come in handy. They capture the attention of audiences with their unique design and abilities and can be flexed into various different shapes.
Another advantage of Flexilight is its reusable properties. If you are a frequent visitor of expos and exhibitions, your Flexilight can be reused for multiple events.
What is the difference between a FlexiLight and a Flexicurve?
Flexilight is a lightweight, compact and easily portable exhibition display that can be made with multiple 800mm wide panels to suit any requirement. It's easy to set up and disassemble, with a carry case designed to turn into a counter after assembly. The Flexilight is meant to be as compact as possible, making this design easy to transport to various exhibitions.
The Flexicurve is a heavier framework, with durable metal construction. Flexicurves aren't as compact but can still be easily assembled and taken apart after use. One major difference with the Flexicurve is the introduction of counters, shelving systems, doors and meeting areas within the design itself. Your Flexicurve Exhibition Stand can be designed exactly to your requirements and specifications. For a free stand visual please call: 01767 603930
How is a FlexiLight assembled?
FlexiLight exhibition banner graphics are extremely easy to assemble and can be done by a single person, tool-free! An easy to follow tutorial is available for FlexiLight installation, explaining the simple assembly of the Flexilight Exhibition Stand. The FlexiLight comes with all necessary equipment needed to assemble the stand, along with building instructions. But you can still watch the video if you are in need of a more visual explanation.
Are FlexiLights easily transportable?
Yes. One major design advantage of the Flexilight is its compact abilities, and how easy it is to transport. The Flexilight reduces down to a carry tube size, making them small and portable for all events. They can easily fit in car boots and their carry case can be upgraded to a wheeled case for even easier transportation, for an extra £100.
Can I change the graphics on the FlexiLight?
Yes. The advantage of the Flexilight graphics all have the same width of 800mm. The graphics can be physically mounted in any sequence meaning you can change graphics to suit the message to the market you are presenting to, and update product and service messages as required. Individual panels can be replaced, if multiple panel alignment is critical or an exact colour match is required, it is advisable to replace sets of graphics together. For advice on replacement graphics please call 01767 603930
Are FlexiLight graphic design templates available?
Yes. Design templates are available. Please email: sales@parkesexpo.com for templates for your requirement or call: 01767603930
What Our Customers Think of Us