Let us know about your event using the enquiry form and we'll design an exhibition stand for you to hire which meets your requirements. Our experienced design and project management team can help you prepare for your exhibition down to the finest detail, ensuring that your stand supports your marketing goals.  For a free stand visual Call: 01767 603930
Our Expohire service is an ideal solution for those competing for attention to create an immediate indelible impression. You can have a bespoke stunning and memorable exhibition stand, with a great ROI, whilst avoiding the expense of buying, installing or storing it. Regardless of the venue or the space you are exhibiting in, we can tailor our hire options to you by providing you with the perfect solution for your brand.
Another situation when hiring an exhibition stand can be useful is if you are travelling a long distance, or perhaps you are only doing a one-off event and won't need to use the stand again. In addition, first-time exhibitors just testing the waters often opt to hire rather than buy, while they are still establishing their business and brand.
We cover all major exhibition venues in the UK and abroad if required, services include transportation, Installation, and removal at the close of the show. We're here to help you get the best results from your budget and the options available to you.
Make an enquiry today – Call 01767 603930
Some Examples Of Our Work
Why hire an exhibition stand?
Exhibition stand hire is an increasingly popular choice for both new brands and companies who like to experiment with different stand designs at various shows. Our exhibition stand design team will listen to your requirements and then create a stand visual based on our full range of display options to create a stand that is unique and ensures people are drawn to your trade show stand.
We have options to suit and sized stand and budgets from portable pop-up displays through to custom built stands that need be transported and constructed on site by our stand builders. We pride ourselves on providing cost effective solutions along with free visuals and high quality designs. We have a large portfolio of happy customers so have a read through our case studies to see how we always deliver to your deadlines and plan each show down to the finest detail.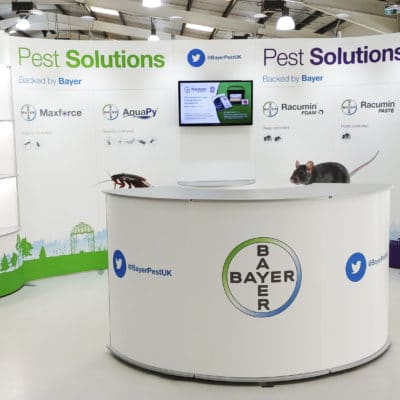 Related Stand Hire Products
These are some of the options available to our team to create your rental exhibition stand
Enquire Now To Hire an Exhibition Stand
If you would like to learn more about our exhibition stand hire options and services call us on 01767 603930 or fill out our enquiry form below. Or if you're looking to buy, learn more about our bespoke exhibition stands here.
Get in touch with us
What Our Customers Think of Us